Young Interpreters
We are delighted to be relaunching our Young Interpreter Scheme® at Seymour Park. The scheme provides peer support to pupils and families who are international new arrivals and who are learning English as an Additional Language (EAL).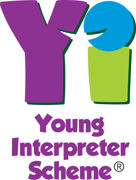 The Young Interpreter Scheme® recognizes the huge potential that exists within our school community for pupils of all ages to use their skills and knowledge to support new learners of English so that they feel safe, settled, and valued from the start. We have over 20 languages spoken at Seymour Park so this scheme gives us a fantastic opportunity to celebrate our amazing multilingualism too!
Young Interpreters will undergo specific training to prepare for their important role and they are selected on the basis of different personal qualities they may have. The support they can offer to a newly-arrived pupil can be very reassuring from a parent or carer's point of view at a time when their child may be adapting to substantial changes. They can also support school staff in a variety of ways at different points during the school day.
Bilingual pupils will use their language skills in a variety of ways to help new arrivals access English and feel part of the school. Alongside English-only speakers, they will learn different strategies to clarify, explain and 'interpret' a whole range of school activities, systems, and procedures to new entrants through the medium of the pupil–friendly English where the first language isn't shared by other pupils or adults.
Over sixty children from Years 3, 4, and 5 applied to be a Young Interpreter in March 2020, and eighteen lucky children were selected for training. When we return to 'normal' school we will train them up ready to support our newly arrived children and families. We are also delighted that several parents have also volunteered to offer us their support to run the scheme at our amazing school. Thank you!
Our new Young Interpreters:
"I love helping people and I love speaking in different languages to people. I am also happy that we have a lot of people that speak different languages in our school."
"I used to be lonely but Young Interpreters came to me and I played with them the whole playtime so I have learnt from them. I know what to do when people are sad!"
We look forward to introducing you to all our new Young Interpreters on this webpage soon and sharing our ideas for the important work we will undertake in school.
Find out more here:
Young Interpreters Guide​Young Interpreter Scheme Video