Understanding Our World
Each of the individual subjects that build into the 'bigger picture' of our 'Understanding Our World' curriculum make a clear and positive impact through the journey that we provide for our pupils throughout their time at Seymour Park Community Primary School. Within this key strand of our bespoke curriculum, we take great pride in the degree to which the learning opportunities provided to our pupils support them in their development – not solely regarding academic attainment, but also as individuals with a strong moral, spiritual, cultural and social conscience, alongside a clear sense of pride in their own identity. Seymour Park's 'Understanding Our World' curriculum provides pupils with the necessary knowledge and skills for them to both reflect on 'their' past and look forward to 'their' future as a part of our whole school family and the wider community. They are taught to respect the differences between the people and places within this community, as well as those that exist worldwide and are supported in exploring how they can make a difference as important and unique 21st century citizens of our ever-changing planet.
Geography
Through our Geography curriculum we inspire in our pupils a curiosity and fascination about the natural and human aspects of the diverse world that they live in. Regular opportunities for fieldwork and outdoor learning (both within the school grounds and at locations further afield) allow pupils to gain 'hands on' experience of these concepts and empowers them in their development of key knowledge and skills which are transferable to other curriculum areas. Pupils are encouraged to use a variety of sources, maps, pictorial and digital resources to support in their development of a greater understanding and knowledge of the world (as well as their place in it). With a strong awareness of the issues facing their Earth and its key human and physical features and processes, we provide a solid foundation for an in-depth understanding of their rights and responsibilities to others and the environment and to recognise the actions they can take to make a world of difference.
History
The experiences provided to our pupils during history lessons inspire in them a curiosity to know and understand more about the past of Old Trafford, Manchester, Britain as a whole and the wider world. Development of key enquiry skills such as the study of sources; consideration of differing viewpoints and the ability to make or adapt predictions and decisions according to what they discover, equips our pupils with a resilience and perseverance that is key to success in all other areas of learning. Visits to places of historical importance and the welcoming of visitors into school enrich our already vibrant history curriculum, which centres on the impact and influence of significant people and events in Britain (as well as the wider world) and a chronologically accurate understanding of the changes that have taken place over time. At Seymour Park Community Primary School, our pupils are taught to recognise the value of a sound knowledge of the impact and influence of what has come before. This cultivates their ability to think critically; to develop personal perspective and judgement and empowers them to understand their own identity, the challenges of their time and their role as 21st century citizens.
Religious Education
We are proud to be a diverse school and our RE curriculum is at the heart of our harmonious school community. Through our RE curriculum, our children recognise and respect the differences that exist within and between faith communities and individuals. They become up-standers of the rights to an identity and a faith or beliefs. Throughout our school, the study of world religions engages, inspires and challenges our pupils. Our RE curriculum is built on the foundation of teaching pupils in EYFS and KS1 to recognise what is special about them and builds to encompass an understanding of the different religions practised by people throughout the world. Lessons centre on a 'big question' to which pupils then use their knowledge and enquiry skills to form their own responses. This learning is presented in dynamic 'floor books'. Our curriculum ultimately equips our children with the necessary knowledge and skills to both ask and answer challenging questions and deliberate key topics regarding the religious beliefs, values, traditions and practices that are followed within our diverse school family; our wider community and the world in which they will grow up in.
Outdoor Learning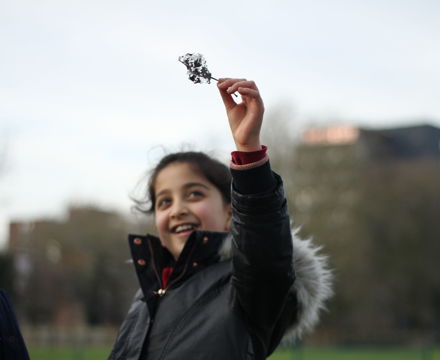 An important element of our bespoke curriculum is the embedding of outdoor learning opportunities as a way to enrich and develop pupils' understanding and application of key skills, knowledge and the values of our school. We provide equal opportunity for 'hands on' exploration of our local environment – teaching pupils to respect their surroundings and also to develop life-long skills and attitudes that contribute towards healthy, fulfilled lives as 21st century citizens, with a strong growth mindset.